According to the U.S. Census Bureau, the average American will move about 11 times throughout their lifetime. Whether you're a Minnesota native and want to move to another city or you live in another part of the country, Duluth is a great place to call home.
Here are just a few reasons you should call Duluth home, as there is a good chance that it will become your forever home.

Duluth Has Four Seasons
Many people talk about the winters in Duluth, but what often gets overlooked is that it's a city that experiences all the seasons (and quite beautifully). There are plenty of states throughout the U.S. that only seem to have a few distinct climates: hot and less hot.
Since Duluth is located in the Northern part of the country, you still experience all the seasons: winter, spring, summer, and fall but when it comes to the warmer months, it's often more comfortable and enjoyable.
Summer can be an uncomfortable (and downright oppressive) season in other parts of the country, and even in the state of Minnesota, but in Duluth, the weather and climate make it easy to spend time outdoors. Whether you like to camp or attend music festivals, the weather is nearly always ideal for summer events.

Don't Forget The Great Outdoors
Not only is Duluth an ideal city to experience all four seasons, but it's one of the top-rated places to enjoy the great outdoors. It may come as no surprise that Duluth was voted as "Americas Best Outdoor City" in 2014 by Outside Online, and has been in the running numerous times.
With over ten hiking trails in the area, including the Superior Hiking Trail, Duluth is the perfect city to explore whether you're a novice or experienced hiker. Love nothing more than to hop on your mountain bike and hit the trails? Come check out the COGGS Trail Systems. 
Lovers of the great outdoors visit Duluth every year to experience the beautiful scenery and fresh air. Why not live here, too?

A View of Lake Superior is a Perfect Reason to Call Duluth Home
You can't talk about living in Duluth without mentioning Lake Superior. If you long to live near the ocean or you like to spend the warmer months doing water activities, Duluth is for you. While Lake Superior is not the ocean, you can find a sandy beach in the heart of the city.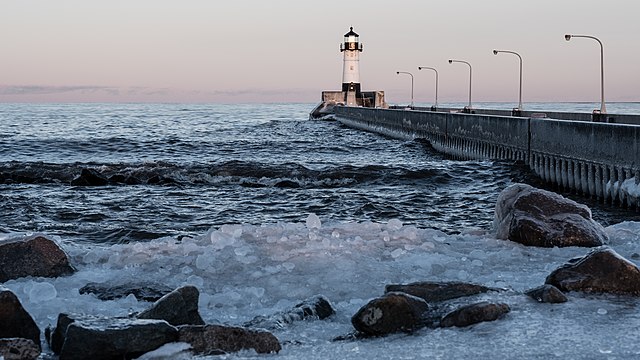 Lake Superior is the world's largest freshwater lake, by surface area, and thousands of tourists visit the Duluth area every year to see it in person. As a resident of Duluth, you don't have to travel far to enjoy the lake. Depending where you live in the city, you can watch the sun rise and set by the lake every day, right out your front door.
Duluth is a Great Place to Raise a Family
Whether you have children or are planning on starting a family, Duluth has a great reputation as a healthy and happy place to raise a family. The city offers a variety of cultural activities, as well as outdoor opportunities, to provide your children with a well-rounded upbringing.
Top-Rated "Happy" City
We always hear about some of the worst places to live in the U.S., but Duluth is rated one of the happiest cities to live in the United States.
According to the U.S. National Bureau of Economic Research and USA Today, the residents of Duluth rank their city as one of the best places to live, which puts makes it one of the top ten "happy" cities in the country.
Since we also have an office in St. Cloud, we also thought it would be fun to do one of these for St. Cloud:

Bonus: Interested in Living in St. Cloud? 5 Reasons You Should Call the "Granite City" Home
St. Cloud is located in the central part of the state and is home to nearly 70,000 residents. Here are a few just a few reasons you should contact ShipRock Management property management in St. Cloud and consider making the city your home.

Reason #1: St. Cloud State University is on Forbes lists for top colleges in the nation, the Midwest, and for Public Colleges.
Reason #2: St. Cloud is only about an hour away from Minneapolis-St. Paul. For people who want to live near the metro area without living in the suburbs or surrounding area, St. Cloud is a great city to explore and call home.
Reason #3: While St. Cloud has a long history of being a processing hub for trade and agriculture, there are plenty of outdoor activities to enjoy. Quarry Park and Nature Preserve is a favorite place for hiking and swimming in the granite quarry.
Reason #4: Not only is St. Cloud a great place to live in the summer, but Liviability.com ranks St. Cloud as one of the most "Livable Winter Cities." There are plenty of winter activities, which include the "Winter Nights and Lights Parade" and "Weihnachtsmarkt" (Winter Christmas Market).
Reason #5: While St. Cloud is best known for St. Cloud State University, there are five other schools that offer higher education in the community.
It's also worth noting that NerdWallet ranked St. Cloud as the #39 on the list for Best Cities for Women in the Workforce. The city is also a top choice for young entrepreneurs, growing businesses and careers.